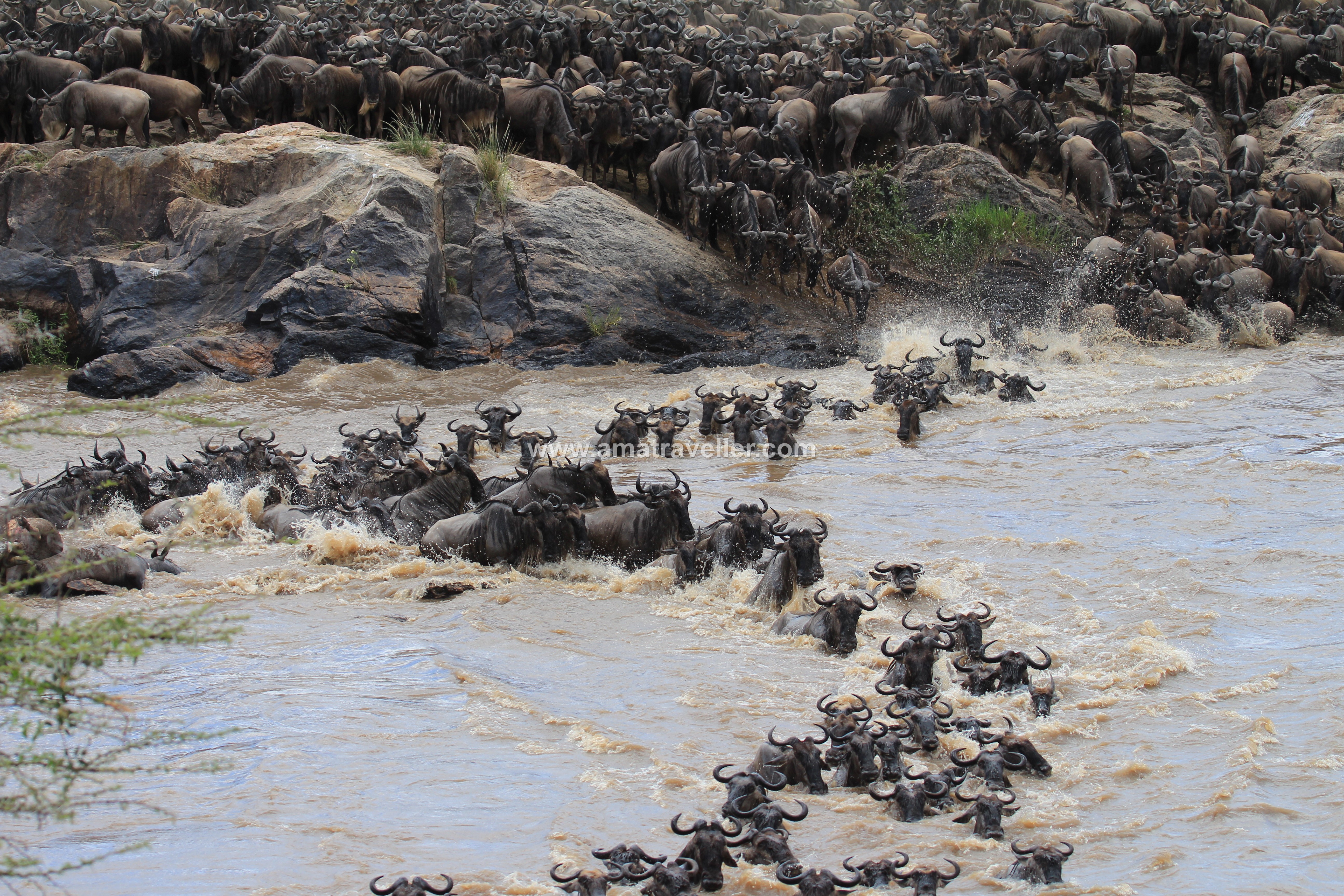 Was that real ? Am I really watching those wildebeest crossing the Mara River ? or it's just my wild imagination ? oh no it's real ! I can see them struggling with the fast moving water of the river .. I can hear their foot steps their sounds while  trying to survive by making it to the other side of the river ! I was there standing in the Safari jeep having those thoughts in mind and trying to realize it was real and I was there right at the river holding my camera and taking some photos …Honestly I couldn't believe that I was actually there.. and it was all happening in front of my eyes !Yes I did it and it was happening at that moment  ! I finally witnessed a  crossing !! One of the greatest natural phenomena in the world … The great migration in East Africa !
الي اشوووفه شي صجي ؟؟؟ صج انا قاعده اشوف هالحيوانات تعبر نهر المارا جدامي ؟؟ ولا هذا خياالي الواسع !! لا الشي صج .. كاني قاعده اشووفهم يعابلون بروحهم و يحاولون يعبروون النهر رغم قوه تيار الماي و هم كاني قاعده اسمع صووتهم و اصواات ريولهم على الارض … كل هذا عشان يقدرون يعيشون و يلحقووون موسم المطر بالضفه الثانيه للنهر ! كنت واقفه فوق في جيب السفاري و هالافكار تدووور في باالي .. كنت احاول استوعب مع كل لقطه آخذها بكامرتي .. صج الي اشوفه ؟ و انا صج مجابله هالحيوانات ؟؟!!! المنظر كان شي خياال سبحان الله ! حتى العقل ما يستوعبه بسرعه … بس صج كل  الي اشوووفه … حدث و كان قاعد يصير جدامي … ماكو شعور احلى من انه الواحد يحقق احد امنيااته .. خصوصا الامنياات الصعبه …. و اخيرا شفت عبووور للحيوانات ! و اخييرا شفت احد احلى مناظر الهجره السنويه  لاحد انواع الجواميس البريه بين كينيا و تنزااانيا … احد عجاايب افريقيا
When was that ? During my Safari trip to East Africa in October 2014. We planned our trip in that period of time hoping that we get chance to see  the migration and we did

 It feels sooo great and nothing will ever beat the joy and happiness that overtakes my soul whenever something I want to see happens !
متى شفت كل هذا ؟ حزه رحلتي و سفرتي السفاري الى افريقيا في شهر  اكتوبر 2014 … خططنا رحلتنا في ذيج الحزه او الفتره على امل انه يحالفنا الحظ و انشوف شي من الهجره السنويه .. و الحمدلله شفنا … طبعا شالشعووور كان اينن .. ماكو شي بالدنيا يفرح و يونس كثر شعوور انه تشوفوون شي كاان بخاطركم تشوفونه بعيونكم ..
Because it's something not to miss, whether you're a traveler or a nature lover, I will show you some of the amazing photos that I took during the crossing and also list some basic information about the great migration,hoping that this post will make you pack your stuff this year and find you're way to beautiful Africa to witness this marvelous migration ! Are you ready to know more about one of the amazing wonders of Continue reading →